The Savior Transfiguration Cathedral of the 12th century is the oldest church in Pereslavl-Zalessky and the earliest architectural monument remained from those which belonged to the Vladimir-Suzdal art of building. It lists among the first stone structures erected in the mid-12th century after a long break in construction that had been caused by the death of Vladimir Monomakh.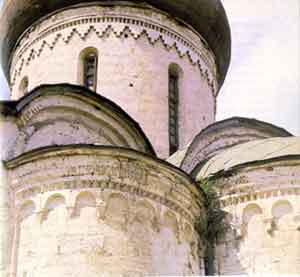 The Savior Transfiguration cathedral is a cross-cupola four-vaulted church typical for the Byzantium tradition. Its architectural image is simple and ideally corresponds to the rigorous atmosphere of that time. Its mighty beauty expresses itself in laconic shapes, clear constructive logic and grand static character.
Since ancient times the cathedral has been one of the main town-forming structures for Pereslavl-Zalessky.
Long ago it served as a burial vault for Pereslavl apanage princes. Here we can see the graves of Dmitry Alexandrovich, the Grand Prince of Vladimir and the son of Alexander Nevsky as well as of Pereslavl Prince Ivan Dmitrievich, who was Alexander's grandson.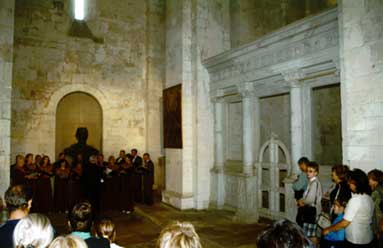 Savior Transfiguration Cathedral is a real pearl of Old Russian culture. Unfortunately only a few precious objects have survived up to now: a chalice of Prince Yury the Long-Armed, 12th century (kept in the Armoury of Moscow Kremlin), Transfiguration icon (kept in the State Tretyakov Gallery) and the Gospel of deacon Zinovy, 14th century (Russian National Library). These objects provide insight into the former grandeur of the cathedral interior.
The renovation works of the late 19th century undertaken upon the initiative of the church wardens, caused a great damage to the artistic appearance of the cathedral. Instead of the wooden iconostasis they installed a marble sanctuary screen in the Pseudo-Byzantium style. The murals by Byzantium painters of the 12th century were taken off the walls and replaced by ornamental oil paintings. All these diverse interior elements did not form a stylistic unity but they were in line with Russian church decoration traditions of the late 19th century.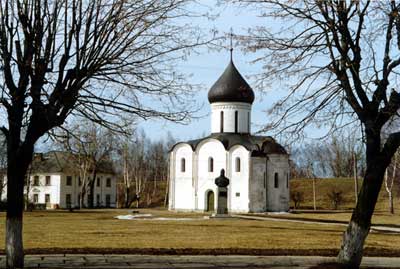 In the after-revolution decades, visitors and local people of Pereslavl got used to the cathedral being used as a museum. Here they still can make themselves familiar with interesting devices of Russian architecture, breathe air of Old Russia and catch a glimpse of its heroic past.
Nowadays Savior Transfiguration cathedral being a unique historical monument of pre-Mongol Russia needs special surveillance and maintenance. These functions are performed by experienced and responsible museum workers.
In July 2014 during archaeological excavations carried by the Archaeology Institute of the Russian Science Academy they discovered a seal of Athanasius the First, Patriarch of Constantinople. Today you can see this seal at the "Silver Sacristy" exhibition.